Join Our Mailing List for Coupons, News & Deals
Request Samples
You can order 6 inch long ribbon samples of our main product lines including Double Faced Satin and Solid Grosgrain Ribbon to help match colors. Please note that ribbon colors occasionally vary due to differences in dye lots, and as a result we cannot guarantee that these color samples will always match the ribbons ordered from us.

Swatch Cards
If you're looking for something a bit more substantial and need to have on-hand the full gamut of our color offerings, then you may consider purchasing one of our swatch cards. These are available featuring our solid double sided, regular and Luxious satin ribbons as well as our solid grosgrain ribbons. Expedited shipping options are also available when ordering.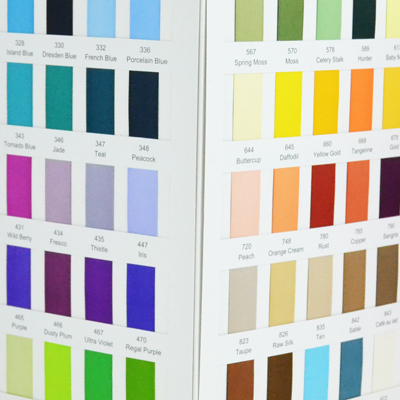 Ordering By the Yard
Marrying the utility of full-yard samples, and the convenience of expedited shipping options, purchasing single yards is the ideal way of matching colors for your project. Some items that can be purchased by the yard are shown below. Order by 2pm and have it shipped out the same day!

Copyright © 2004-2023 RibbonBazaar.com. All rights reserved.